Electrical transformers are all over the place. These systems power every factory, commercial business, and large residential building in cities and towns across the country.
This Article Discusses The Following:
Transformers are notorious sound polluters. While brick and cement walls are two traditional ways of enclosing these offensive noise generators, they are difficult to move, take down, or adapt to changing needs.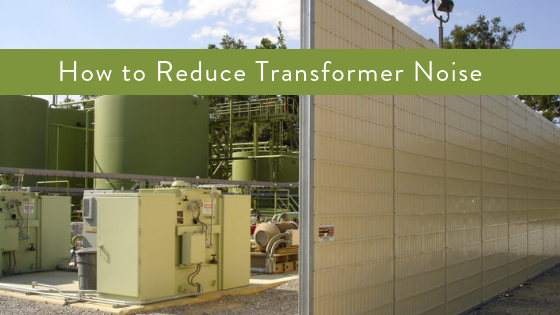 Where Does Electrical Transformer Noise Come From?
Electrical transformers lower or raise the alternating current level to meet the demand or draw for power.
This force is useful for operating utility stations, lights in warehouses, and overhead equipment like cranes.
These systems have central cores that stretch and compress from the electrical current passing through magnetic parts of the component.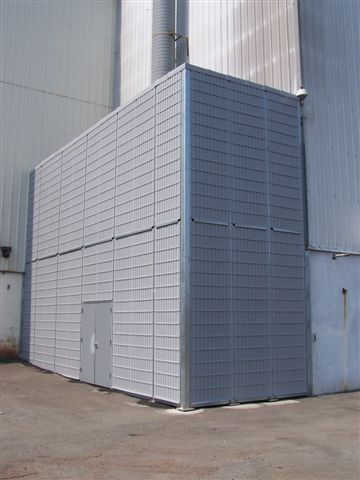 During the transmission of power, the steel in the center of the equipment goes through a transformation from the magnetic force.
The physical changes cause a buzzing noise or a hum as some call it. Because these systems can cycle dozens of times a minute, the noise is like a constant sensation polluting nearby buildings and areas.
Common methods for reducing equipment noise from transformers:
Masonry enclosures
Steel and concrete surrounds
Putting the transformer in the least offensive place
Choosing to stay away from enclosed hallways or tight quarters like stairwells
Adding oil barriers between the transformer and the noise receiver
Selecting high-quality transformers with sound-reducing technologies
Innovative sound screens to lower decibel ranges
Adding outdoor sound barrier wall panels to reduce noise
Transformer Noise Reduction
Noise barriers with acoustic panels diffuse nuisance frequencies and help to dispel constant offenders like buzzing sounds.
Sound-absorbing noise barrier walls allow the sound waves to penetrate the core through perforations on the exterior of each panel.
Inside, the sound dampening materials send the sound waves through a series of twists and turns where they lose energy.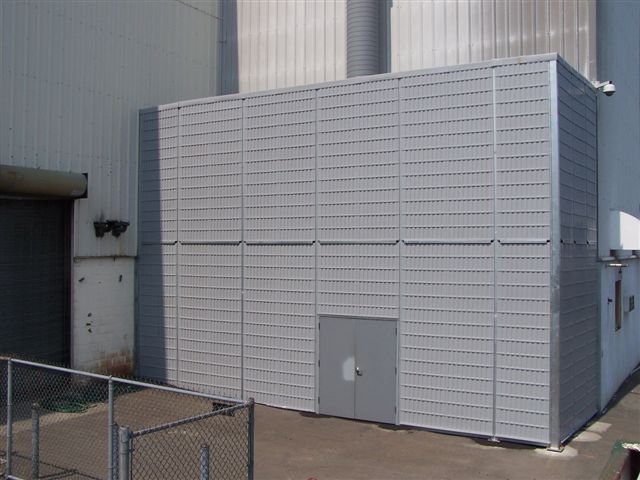 Using an outdoor sound absorbing technology to protect residences near transformers.
Reducing transformer noise at the source is only viable for relieving some of the sounds, but it will not lower it to levels safe enough for nearby workers and occupants to be close.
Noise barrier panels are effective solutions for keeping the peace when operating in close quarters to homes and other businesses.
Drop Transformer Humming Sound Levels
An acoustic barrier can provide as much as a 20-decibel drop in sound levels past the transmission point.
If you are looking to find an alternative in reducing vibrations and noise without a good sound barrier wall panel, check below:
Placement is vital to reducing reverberations and amplifications
Put a noise blocking zone between the transformer and workers, residents, or construction teams
Tighten the bolts and nuts regularly through a comprehensive maintenance program
Remember to remove mounting screws
Try a test run, if possible, to see if the positioning and noise absorbing materials fit well together
Be sure to read and adhere to all guidelines in the manufacturer's instructions for using transformers
Use thick, sturdy materials to put the transformer on to avoid excess vibrations like thicker metal, wood, or concrete pads
Apply flexible mounts or vibration dampeners to reduce movement and noise levels including the high pitched whining the equipment can make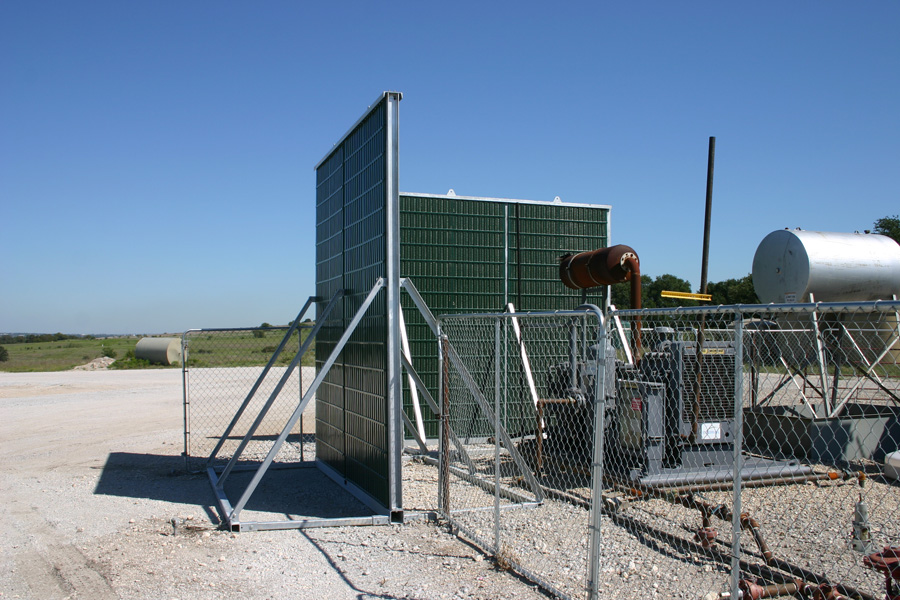 Why Choose Our Noise Barriers
Our systems can reduce noise effectively.
Our transformer noise reduction panels are fiberglass construction that makes they incredibly strong and durable in the harshest environments.
They have a noise absorption coefficient of 1.05, which means they are tested 100% sound-absorptive. Due to their incredible strength, these panels can withstand winds commonly seen in hurricane-prone areas.
The walls panels we use are:
Acoustically Optimized
Deter Animal Habitation
Available In Many Color Options
The non-corrosive and non-conductive material will continue looking good for years. Our panels can deal with high wind and rough weather year round. With our non-corrosive design our noise barriers will last for up to 30 years!
The best part is these enclosures are portable and can be moved and placed somewhere else. Wherever the transformer noise is located you can shift the enclosure to a new location to help reduce sound levels.
While it takes a crew and sound construction expertise to dismantle, move, and reset the enclosure, these panels are movable unlike stone, cement, and brick walls. You may only need as little as 3 workers to help implement and remove.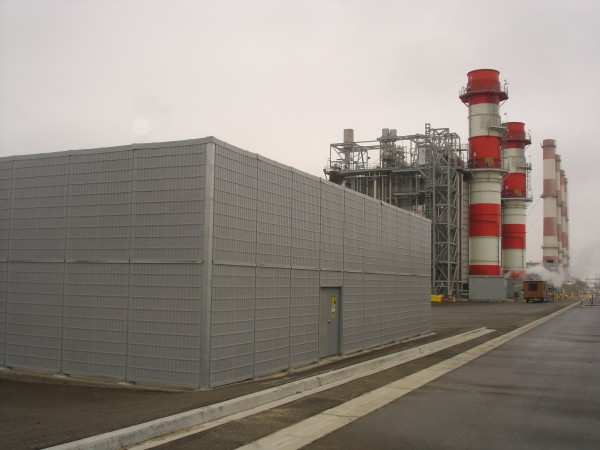 Providing Durable Noise Reducing Panels
We create a durable noise barrier wall that can withstand weather and extreme temperature swings. By manufacturing these products in larger lengths, equating to fewer foundations required, clients realize reduced overall costs for the barrier.
Another huge benefit of our outdoor sound absorbing panels is the lightweight feature. At 4.5 lbs per sq/ft, these panels are effective for use in areas where concrete or brick may be too heavy for the location.
Find out more about how our noise barrier work to reduce electrical transformer noise. These walls not only keep your business compliant with local noise regulations, but they also look good, cost less, and are maintenance-free solutions for reducing the annoying hum of electrical machinery.
Schedule your consultation with a member of our acoustic team to learn more about how the wall panels can help with reducing electrical transformer noise.